"HOW TO ENJOY" AND "ACTIVITIES"
Activities Inside the Hotel
Recommended Spots Near the Hotel
BIBI BEACH ITOMAN
The white sands of this resort beach boast great access from Naha City and the airport.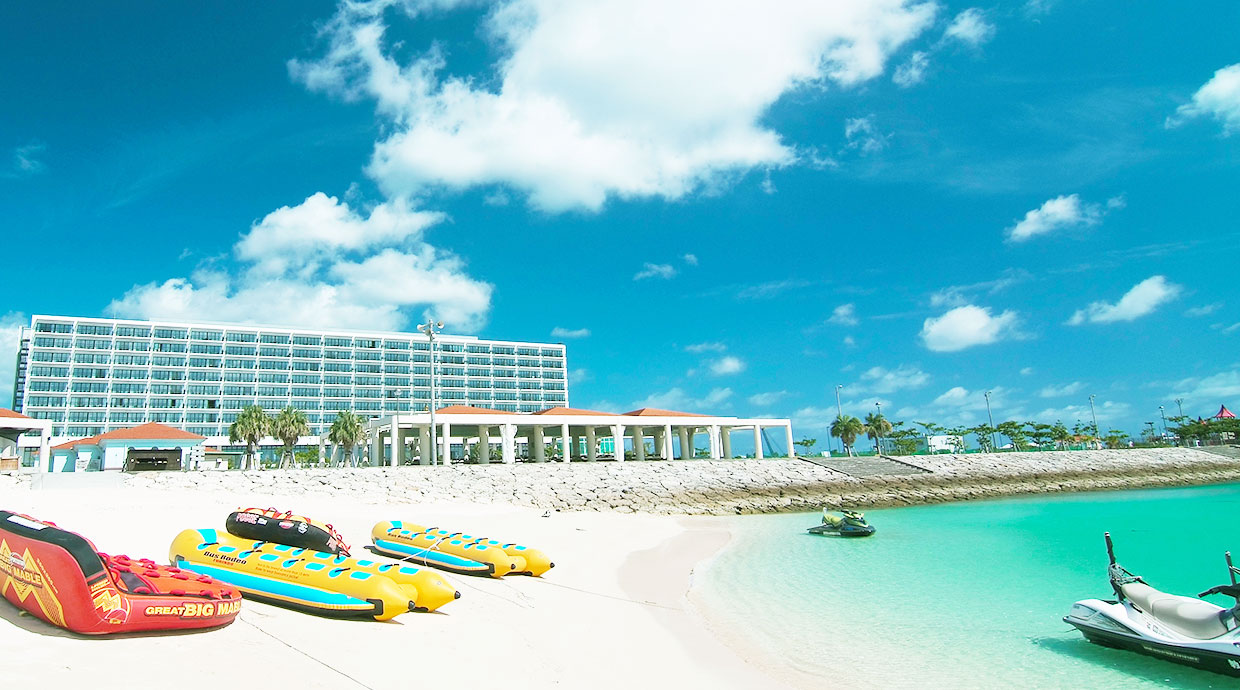 INFORMATION
Facility Opening Hours
8:30 AM to 8:30 PM (April to October)
8:30 AM to 6:30 PM (November to March)
*excluding Year-end and New Year's Holidays
Beach Opening Period
From the opening of the beach to the end of October
Beach Opening Hours
9:00 AM to 6:00 PM (until 7:00 PM from July to August)
Closed
November to March, every Tuesday, Year-end and New Year's Holidays
ACTIVITY
Go See the Coral Reefs of Itoman on the Glass Bottom Boat (fish bait included)

Experience Boat Snorkeling and Cruising

Marine Deluxe Pack
Snorkeling Experience, Banana Boat, Big Mable Float, Kayaking, Jet Ski Experience (operated by instructor)
*Please note that sea activities may change or be canceled due to the weather and sea conditions (tides, etc.). Please make sure to confirm in advance.
Inquiry about Marine Activities
POOL
An incredible 70 meter-long garden pool, perfect for a resort.
Only a minute's walk away to BIBI Beach.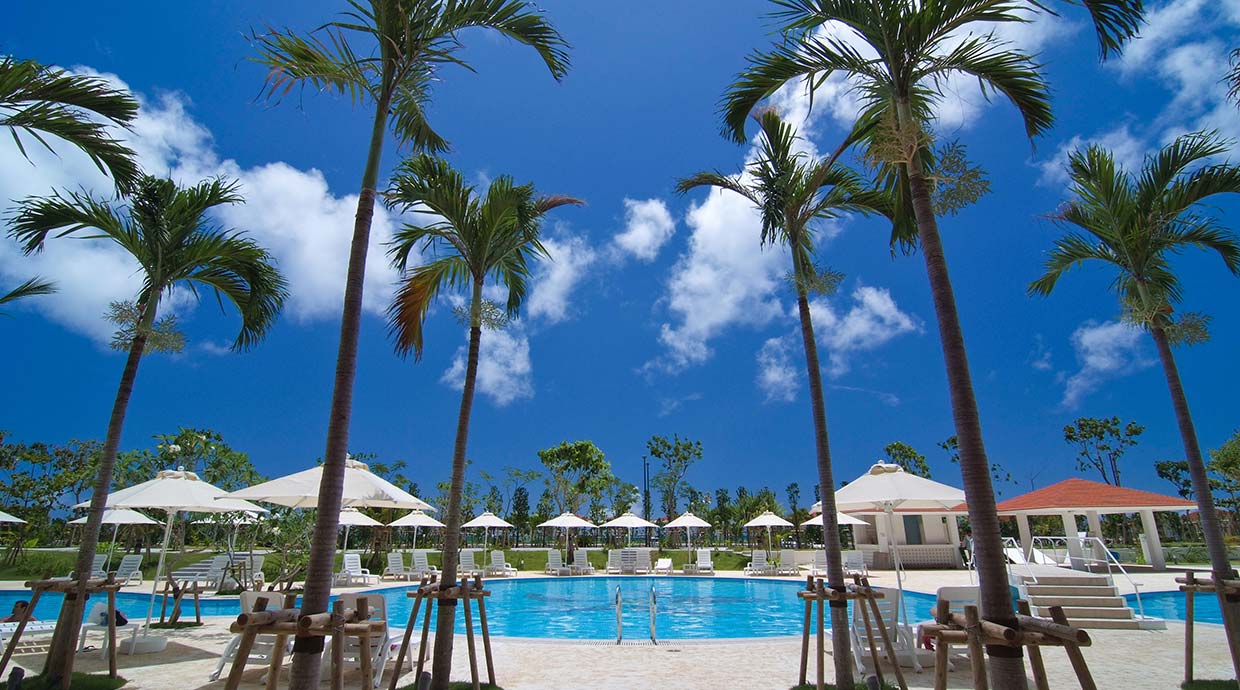 GARDEN POOL INFORMATION
Location
1F (outdoor)
Price
Only available for our overnight guests (free of charge)
Free Pool Amenities for Rent
Towel
Precautions when in Use
*Towels are available at poolside.
*Please refrain from showing your tattoos.
*We request that you use rash guards when using the pool.
*We may suspend the use of the pool in case of strong winds or bad weather.
OTHER INFORMATION
An indoor pool to enjoy year-round

Pool-Side Parlor, Night Pool *only during summer

A Private Garden to enjoy artworks
SIGHTSEEING
An Introduction to Recommended Sightseeing Spots of Okinawa
ACTIVITY
Hands-on experience at the hotel
"Tropical Booths," a corner full of hands-on experiences
We offer a variety of hands-on experiences from painting Shisa (Okinawan lion) sculptures and seashells, to aqua domes inspired by the Okinawan ocean and gel candles! Stop by with your children to create your very own memorial souvenir of Okinawa.
| | |
| --- | --- |
| Location | 2F |
| Period | Open Year-Round |
| Hours | 6:00 PM to 10:00 PM (last admission 9:30 PM) |
| Days | No Days Off |
PREMIUM
LOUNGE
We treasure meeting each of our guests,
and provide high quality hospitality and support for a fantastic journey
| | |
| --- | --- |
| Opening Hours | 7:00 AM to 11:00 PM |
| Location | 10F |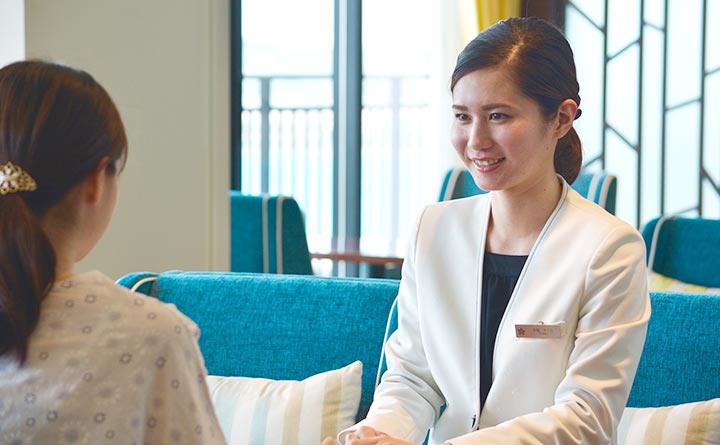 Exclusive Desk for Check-in and Check-out
An exclusive concierge at the Premium Floor will take care of your reservations for the hotel facilities, along with guidance towards tourist spots and leisure activities outside of the hotel.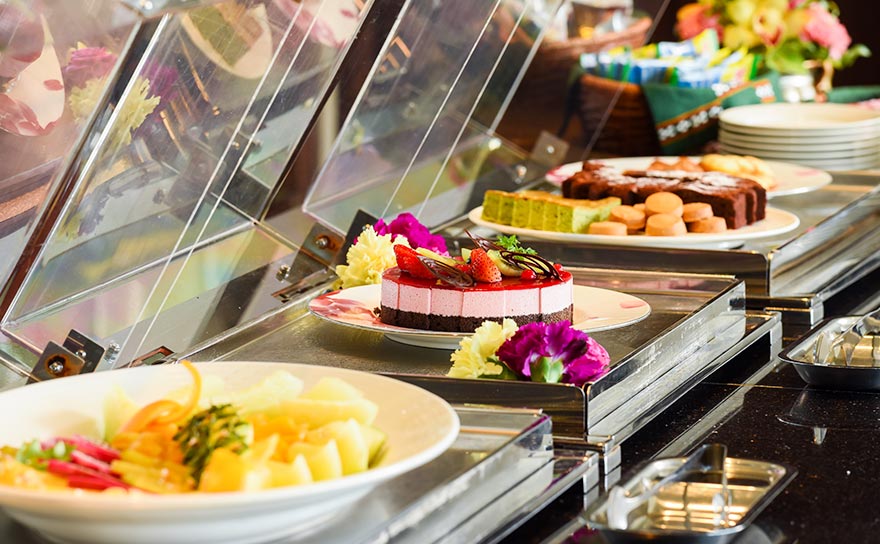 Cuisine Presentation
From our continental breakfast to a nightcap,
we offer a elegant time with presentations full of variation.
*Guests under 18 years of age are not allowed after 9:00 PM.
| | |
| --- | --- |
| Breakfast | 7:00 AM to 11:00 AM(last order 10:30 AM) |
| Tea Time | 2:00 PM to 4:00 PM |
| Cocktail Time | 4:00 PM to 6:30 PM |
| Bar Time | 6:30 PM to 10:00 PM |
| Nightcap | 10:00 PM to 11:00 PM |
Relaxed and elegant morning, enjoying breakfast at the Premium Lounge

Luxurious room service
*fees will be charged separately

Business Meeting Space
*only available for our overnight guests on the Premium Floor